Testimonials from clients of AWS-Affordable Website Solutions. AWS offer our clients the most cost effective way to get a business website. To pause, mouse over testimonial.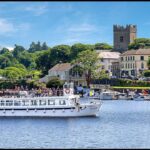 James & Aoife Whelan
MD & Captain / www.killaloerivercruises.com
Killaloe River Cruises
Web Design
AWS built my first web site in 2009 I have noticed increased sales and bookings from customers through the Internet. The team at AWS are thorough, committed and extremely professional, I sincerely recommend their stylish and creative service.